Visit us at Takashimaya B2, call 62769138 or email Festive@peonyjade.com to place your orders today!
Prosperity Gold Bar 100% Pure Black Gold Mao Shan Wang Durian Layered nian gao $138.88nett per order, serves 8-10 guests
Visit us at Takashimaya B2 from now to 23 Jan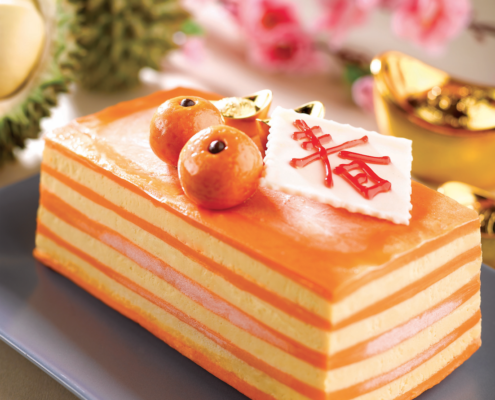 Visit us at Taka B2 from now to 23 Jan
The year's cookie flavours include returning favourites like Crispy Salted Egg Yolk Salmon Fish Skin, Mao Shan Wang cookies, Fragrant Lychee, Lemongrass Cereal Prawn, Nyonya Kara Kara and more!  These addictive creations are the perfect partners to the brand's signature must-haves Buttery Pineapple tarts, Love Letters, Kueh Bangkit, concealed date tarts and the Super Spicy Sambal Chilli Bak Kwa Cookies!
Also look out for new flavours such as Baked Rat-shaped Pineapple Yuzu Tarts, Gula Melaka Toffee Caramel Cookies, Dark Chocolate Salted Caramel Macadamia Cookies  and Buah Keluak Dark Chocolate & Salted Caramel Cookies , all from the skilful MICHELIN Plate 2019 pastry team from Peony Jade.
Priced from S$30.88 per jar.
Get our EPIC Poon Choi (18 LUXE ingredients) with 5 FREE CNY dishes! $518.88nett per order, serves 6 -8 guests
Visit us at Takashimaya B2 from now to 23 Jan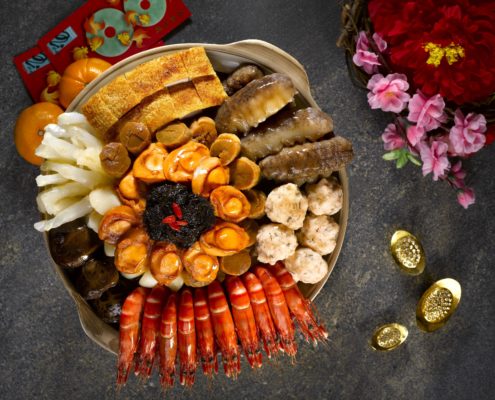 The Five Prosperity Blessings with Poon Choi Takeaway Set:
'Prosperity & Smooth Sailing' Australian Premium Whole Abalone Poon Choi  (18 premium ingredients)  汪旺汪展鸿图, 献生财聚宝盆
Reunion dinners at home need not be a chore with Peony Jade's Five Prosperity Ultimanium Poon Choi Takeaway Set.  The great value-for-money package is true-to-its name as it offers its signature poon Choi with 5 other compliment dishes, all beautifully and carefully prepared and packed for the road:
"Bountiful Harvest" Deluxe Harmony Pan-seared Tuna  "Fa Cai" Yu Sheng with organic farmed tender radish and golden roe;
"Pot of Abundance Wealth" Poached Black Truffle Gyoza, Bird's Nest and Premium Fish Maw stuffed with minced prawn paste in rich chicken consommé;
Peony Jade's "Prosperous" Signature Poached Free-range Corn-fed Whole Chicken bathed in rich scallion oil and minced ginger sauce;
"Abundance Wealth"  Reunion Steamed Peony Jasmine Pearl Glutinous Rice with Premium Air-dried Preserved meat & Chinese Sausages,  and
"Duo Treasures" Double-boiled Chilled Collagen-rich Eight Treasures Chng-Tng.
The set is priced at:
S$518.88 for the Standard Premium Pot Package, serves 6 guests (Enjoy 30% off the second pot), and
S$748.88 for the Large Premium Pot Package, serves 8 to 10 guests (Enjoy 50% off the second pot).
1-day advance order is required.  Available for Takeaways at all Peony Jade Restaurants and Takashimaya B2's festive market.
Click here to contact us.
For Dine-in &/or Takeaway: Booking
&

Credit Card Authorisation Form
Upon your reservation (for dine-in) and/or pre-order of takeaway sets with our restaurants' managers;
Please print and fill in all the details;
Please scan and email the completed form to the same restaurant manager;
The minimum deposit for dine-in reservations is from S$500.
For Cookies
&

Takeaways: Visit us at Taka B2 to place your order directly.
Please take note that our handcrafted unique cookies are freshly made in Singapore and is sold on a first-come-first-serve basis.
Tasting of certain handcrafted flavours are available.  Please approach our festively-friendly staff!
Our booth at Takashiyma B2 will be open from now to 23 Jan 2020.